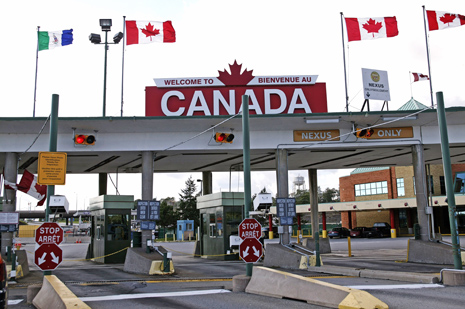 What can I expect at the Border Crossing?
Do's and Don'ts
DO'S
Be calm
Take off your sun glasses
Always turn off all cellphones and radios in the car
Have all your documents ready and have driver hand all Passport Books and/or Passport Cards to border agent
Make sure you have your seat belts buckled. Some States and Provinces are very strict about seat belt enforcement and occasionally have "blitz enforcement periods" to catch offenders
Have your license tags written down (trailer too if towing)
Roll down back window too if able, so agent can view inside vehicle
Be courteous
Leave suspicious items at home and only bring things that are consistent with the purpose of your travel. Empty your trunk of anything you do not need for the trip.
DON'TS
Do not be frivolous or joking around
Do not have an attitude
Do not ramble by offering more information than what is asked for
Do not enter using a NEXUS, FAST, or READY LANE unless ALL passengers in the vehicle have that type of card in their possession.
---
Traveling with a group of Minors
U.S. citizen children under age nineteen arriving by land or sea from contiguous territory and traveling with a school group, religious group, social or cultural organization, or sports team, may present an original or a copy of his or her birth certificate, a Consular Report of Birth Abroad, or a Naturalization Certificate. The group should be prepared to present a letter on organizational letterhead with the name of the group and supervising adult; a list of the children on the trip, and the primary address, phone number, date of birth, place of birth, and name of at least one parent or legal guardian for each child; and a written and signed statement of the supervising adult certifying that he or she has obtained parental or legal guardian consent for each participating child.
---
Questions to expect
Where were you born?

Citizenship?

Where are you going?

What's the purpose of your trip?

How long do you plan to stay?

How much cash do you have with you?

Do you have any weapons?
---
Items you cannot bring into Canada
Click on this link for an extensive list of prohibited items. No weapons of any form are permitted.
---